WAYFINDING
MAIN ID'S
The main ID for a residential development is the community's most prominent and important sign. It not only establishes the property's location, but also its identity and personality. The type of sign utilized is dependent upon the development's site plan and architecture, as well as on traffic patterns and local sign ordinances. The Phillips Agency is skilled in the design of monument signs, blade signs, wall signs, ground signs and canopy signs for both urban and suburban locations, and also offers project management services for sign fabrication and installation.
BLOCK 334
While the primary function of wayfinding signage is functional, a well-designed sign system can also enhance its environment. The Phillips Agency provided design services for wayfinding signage at Block 334. The package encompassed design of all public-facing signs, including the main ID. In choosing the materials and color palette for the package, special consideration was given to interior and exterior finishes, colors and design elements in order that the signage would complement its environment, rather than interrupt it.
Highpoint
The sign package at Highpoint included roughly 850 signs spread among two residential buildings and a clubhouse. TPA designed all signs in the package, supplying complete size, material and construction specifications to the fabricator. Additionally, the Agency oversaw fabrication and installation of the package, and provided quality control and project management services.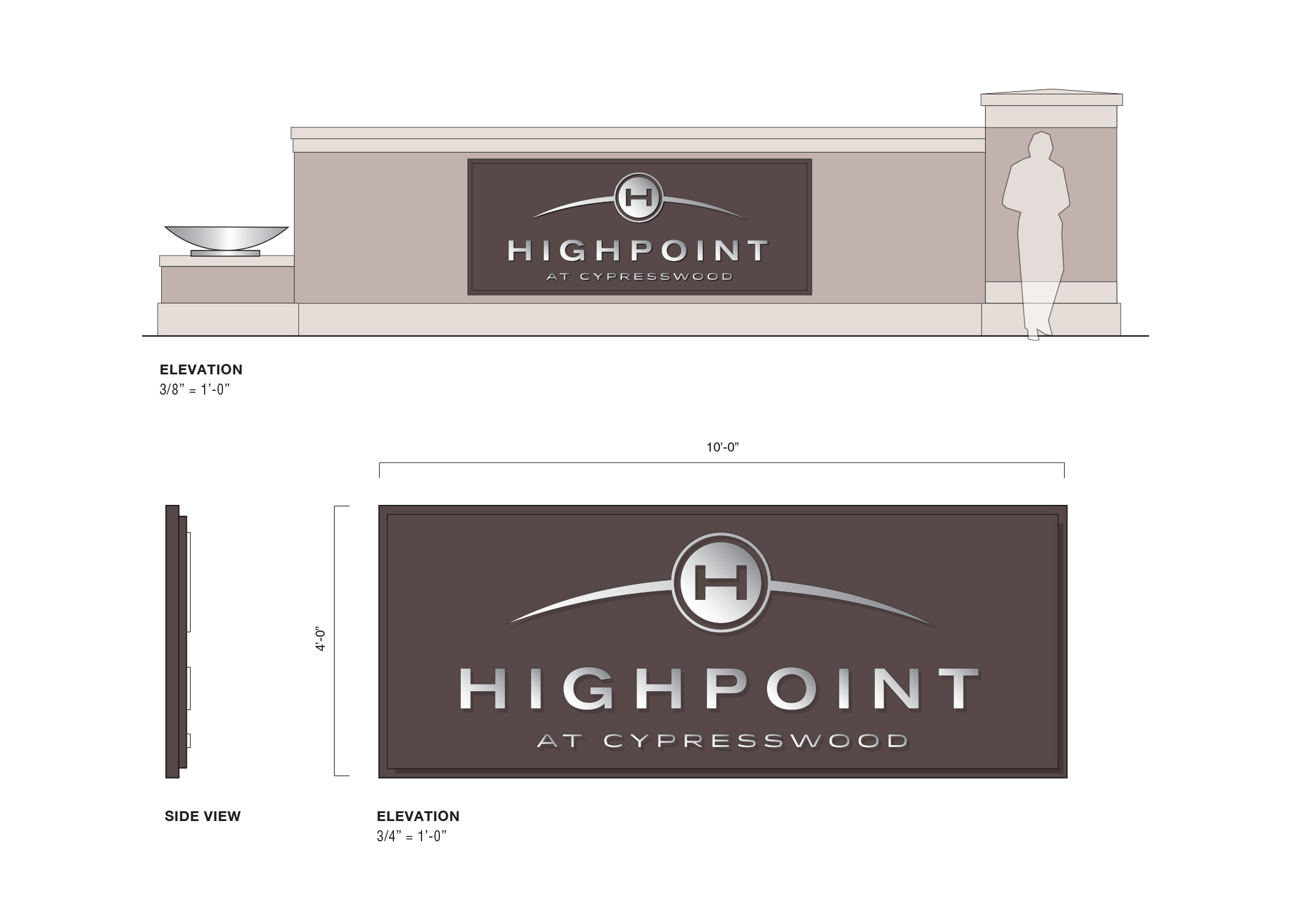 Alexan Heights
Alexan Heights apartments reside in the historical Heights neighborhood of Houston, Texas. Retained to design the sign system for this new community, TPA incorporated elements from both the transitional architecture and eclectic interiors. The main ID was inspired by vintage signage and features a retro font, row of exposed bare light bulbs and curvilinear art deco design elements. Exposed bulbs are repeated in the parking directional and rounded edges on all signs unite the package for a combo vintage/contemporary vibe.
Modera Energy Corridor
The sign package for Modera Energy Corridor is clean and contemporary in keeping with the architecture and interiors of the property. TPA handled signage design for the community's signature signs including main ID, Leasing Center Entrance, Future Resident Parking, Pool Policies, Room ID, Unit Number and Desktop Signs.
District 28
Located in Houston's booming Medical Center, District 28 is one of several new high-end apartment communities in the area. To make it stand out, TPA designed a 20-foot tall, internally lit, double-sided blade sign to attract the attention of drive-by traffic. All signs in the system utilize a muted color palette to blend with interior and exterior finishes, but employ dynamic graphics for impact. The signage shapes are inspired by the community's architecture, which features strong rectilinear lines throughout.